OneTouch Select® Plus test strips
Image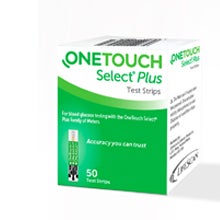 Image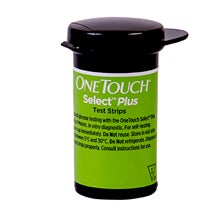 Image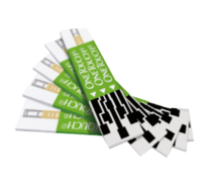 Before using the OneTouch Select® Plus test strips to test your blood sugar level, carefully read the instructions for use for your meter and the package inserts for the various system components.
How do I insert the OneTouch Select® Plus test strip into the blood glucose meter?
Insert the OneTouch Select® Plus test strip into the test strip holder with the contact strips facing you.
How much blood do I need for the OneTouch Select® Plus test strip?
The OneTouch Select® Plus test strips require at least 1.0 μl of blood.
How do I apply blood to the OneTouch Select® Plus test strip?
Hold your outstretched finger still and move the blood glucose meter with the test strip towards the blood drop.
Gently bring the channel into contact with the edge of the blood drop.
Wait until the confirmation window is filled. The drop of blood is drawn into the narrow channel and the confirmation window should fill completely.
How should I store my OneTouch® test strips?
Keep test strips in a cool, dry place between 5°C and 30°C. The meter and test strips should be about the same temperature before you test. Do Not test if there is condensation (water build-up) on the meter. Move your meter and test strips to a cool, dry spot and wait for the meter surface to dry before testing.
Do Not open the test strip vial until you are ready to remove a test strip and perform a test. Use the test strip immediately after removing it from the vial.
Tightly close the cap on the vial immediately after use to avoid contamination and damage.
Store unused test strips only in their original vial.
Do Not return the used test strip to the vial after performing a test.
Do Not re-use a test strip that had blood, control solution, or any contaminants applied to it. Test strips are for single use only.
With clean, dry hands, you may touch the test strip anywhere on its surface. Do Not bend, cut or modify the test strip in any way.
When you first open a vial of test strips, record the discard date on the label. Refer to the test strip insert or vial label for instructions on determining the discard date.
Back to top